CARPET CLEANING SERVICES – 6 STEPS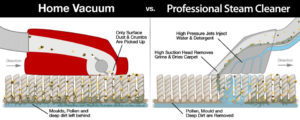 Walk-through: First, our carpet cleaning professional in Newport Beach, CA will walk through the areas that need to be cleaned, identifying any problem areas such as heavy soiling, pet odors, stains, or damaged carpet in need of repair. Your technician will talk with you about these areas and what can be done to correct these issues.
Move Furniture: We will move light movable furniture before beginning the cleaning process. Please note, we follow industry safety standards when furniture moving is provided. All furniture is moved with the exception of heavy, breakable items including china cabinets, pianos, bookcases full of books, beds, large dining tables, dressers or any electronic equipment including TV's, VCR's, stereos or computers.
Vacuum: Using a professional grade vacuum, we will vacuum the open areas, not covered by furniture, to remove as much of the loose soiling as possible.
Pre-spot: Using our Newport Beach's Super Spotter, we pre-treat all surface stains before we begin cleaning to ensure the best chance of removing stains and high traffic soiling. If the carpet cleaning technician finds anything that requires a more extensive method of removal, they will let you know and discuss with you the process that is needed. Ex: If you have a large ink stain that would worsen with a standard cleaning.
Carpet Cleaning: We will use our green carpet cleaning method, applying a light mist across the surface. Corona Carpet & Tile Cleaning in Newport Beach CA use the most Powerful Steam Cleaning Truck-mounted Machines to gently extract the soil from the fibers. This process is known as emulsification & extraction. The soil is trapped in the cleaning solution and extracted with our powerful steam cleaning units.
Grooming: We use a professional carpet wand grooms the carpet fibers, raising the carpet pile, bringing back the fresh, fluffy look.
Each carpet cleaning visit is backed by our 100% Clean Carpet Guarantee. We guarantee to clean your carpets to your complete satisfaction, or we will return and re-clean your carpets at no cost. Contact us within 30 days of your cleaning, if you are not satisfied.
Check out our Carpet Cleaning Services Prices for Newport Beach CA or our Eco-Friendly Carpet Cleaning System.